This is a complete guide to understanding the home buying process and learning the rules of the trade, especially in the competitive and one-of-a-kind housing market in Arlington, Virginia.

Buying a home can create a wide range of emotions for all parties involved in the transaction. Whether a sellers is emotionally attached to a piece of property, or your spouse isn't contributing in the search… buying a new home can be a big life decision, but it doesn't have to be stressful. Buying a home is supposed to be exciting, fun and new, but a lot of new homebuyers find it difficult navigating this complex journey on their own.
In order to make the experience as smooth as possible when buying your first home, here is everything you will need to know step-by-step to help guide you through the process and keep as much stress out of the home-buying experience as possible. You have to know going into it, that Northern Virginia, and especially Arlington, is very competitive for buyers. Many have to get into a bidding war and pay over asking to get the home they want. Don't panic, I will guide you through the process exposing you to the least amount of risk.

START SAVING FOR A DOWN PAYMENT EARLY
First things first, it's never too early to begin saving up for your down payment. There are so many benefits in having a solidified savings to use on your down payment, in terms of making an offer on your first home. Along with your down payment, you must plan for all closing costs, escrow for insurance and taxes and any unexpected housing related issues that may come into play.
Improve your credit score as much as you can in the year leading up to buying a home. Talk to a full time mortgage lender on how to do this. There are often simple steps you can take to improve your score. Don't go it alone! This can greatly affect your  interest rate when applying for a mortgage loan. Pay your bills on time, don't make any other major purchases and try not to cancel any previously opened credit cards as this can negatively affect your score.

DEVELOP A HOME-BUYING BUDGET
Just like every other place in this country, there are a variety of different areas, counties and neighborhoods in Northern Virginia that vary in what you can get for your money. The key is knowing not only how much you can afford, but where it is that you can afford so you don't waste your time searching for a home in a neighborhood that's unknowingly well above your budget. FANNIE MAE recommends that buyers spend no more than 28% of their income on housing related costs. In Northern Virginia, it is often more. Knowing how much you are comfortable with vs. what a lender will give you is the key to your success.

RESEARCH VARIOUS NEIGHBORHOODS THAT MEET WITHIN YOUR MONETARY MEANS
Finding a home doesn't come easy and it most likely won't just fall into your lap. At least not here in the Northern Virginia housing market. It'll take research, time, commitment and persistence finding the right area or neighborhood for what you are looking for in a home.
Luckily, here in Northern Virginia, we have a diverse range of neighborhoods that provide various options for all kinds of different people, so the right area for you is out there, if you spend the time researching. Your realtor will be able to help out tremendously with this as well.
Read: Best Neighborhoods in Arlington
Read: 8 Reasons to Use a Realtor to SELL Your Home

STOP BELIEVING YOU'RE GOING TO FIND THE "PERFECT" HOUSE
If there's anything I wish to tell new home buyers it would be that there is no such thing, as the "perfect house," listed at the perfect price, in the perfect location, move-in ready at the perfect time with all the amenities, intricate details and fixtures you are so badly wanting. That home doesn't exist. What does exist, is the right home for you. That's where the "Negotiable & Non-Negotiables List" comes into play.

CREATE A REASONABLE "NEGOTIABLES & NON-NEGOTIABLES" CHECKLIST
This list is crucial to finding the right home for you. You can create your own or simply just download and print the one I've made for you here for free by clicking on it below and begin filling out what you absolutely must have in regards to your new home.
This is a list you have to be very realistic with in terms of your "must-haves" & "must-not have" details about a home.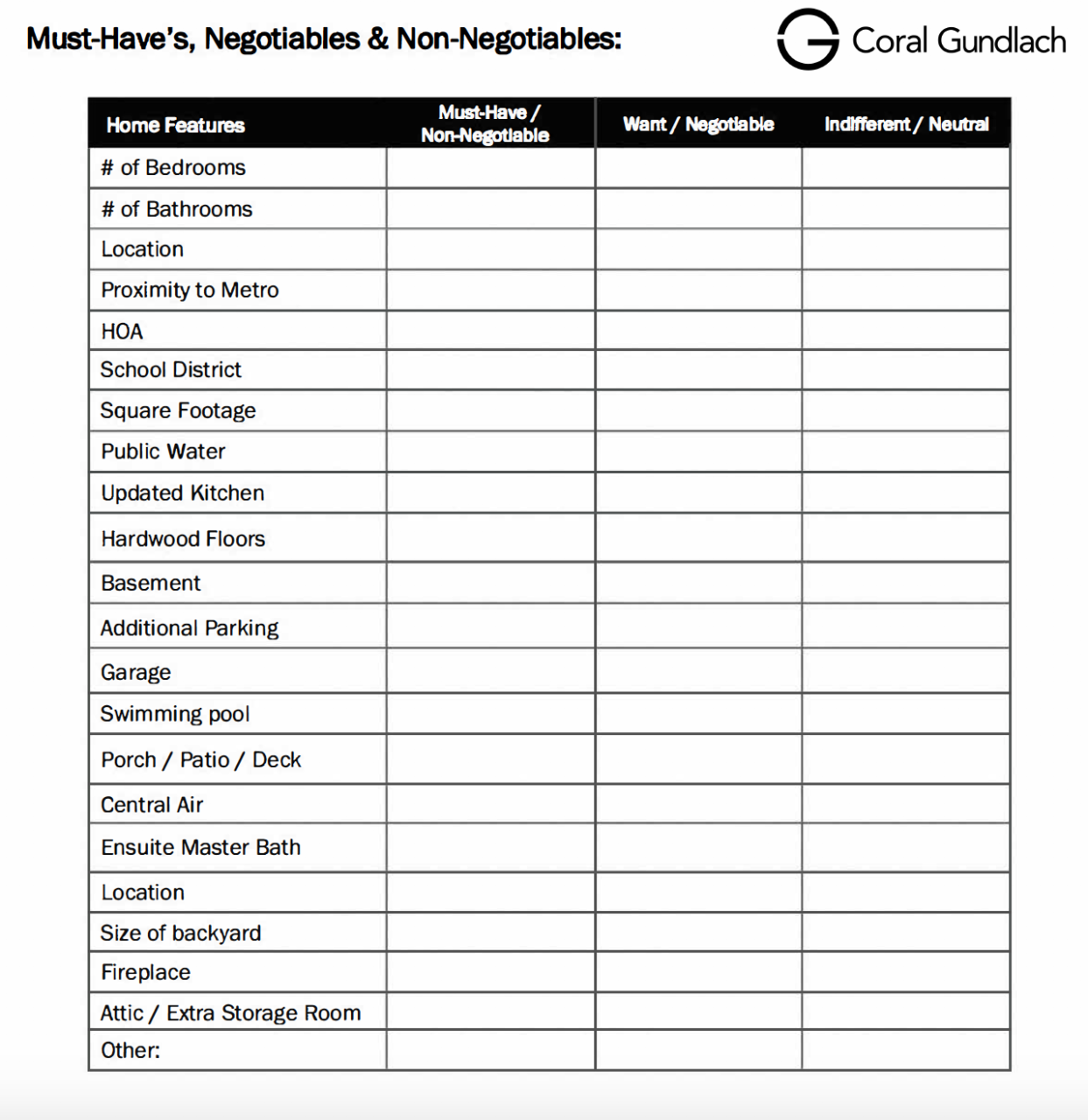 GET PRE-APPROVED & EXPLORE VARIOUS MORTGAGE OPTIONS
*Before meeting with a lender, be sure to locate any proof of assets, tax returns, income and employment verification as this can save you a lot of time in the pre-approval process. They often can be uploaded via a secure server with PDFs.
Steps to getting pre-approved:
Obtain proof of your identity, assets, income, W-2s, pay stubs, bank account statements, and employment verification.
Shop for the best situation for you as a borrower. Remember, you don't have to work with the very first lender you meet with. Interview with several in order to find the best rate, loan terms and customer service
Obtain a binding offer contingent on appraisal and any other underwriting requirements.

FIND THE RIGHT BUYER'S REAL ESTATE AGENT
Find a Realtor you truly trust whom has your best interests at heart. Someone who understands your situation and knows exactly what you are looking for in a home.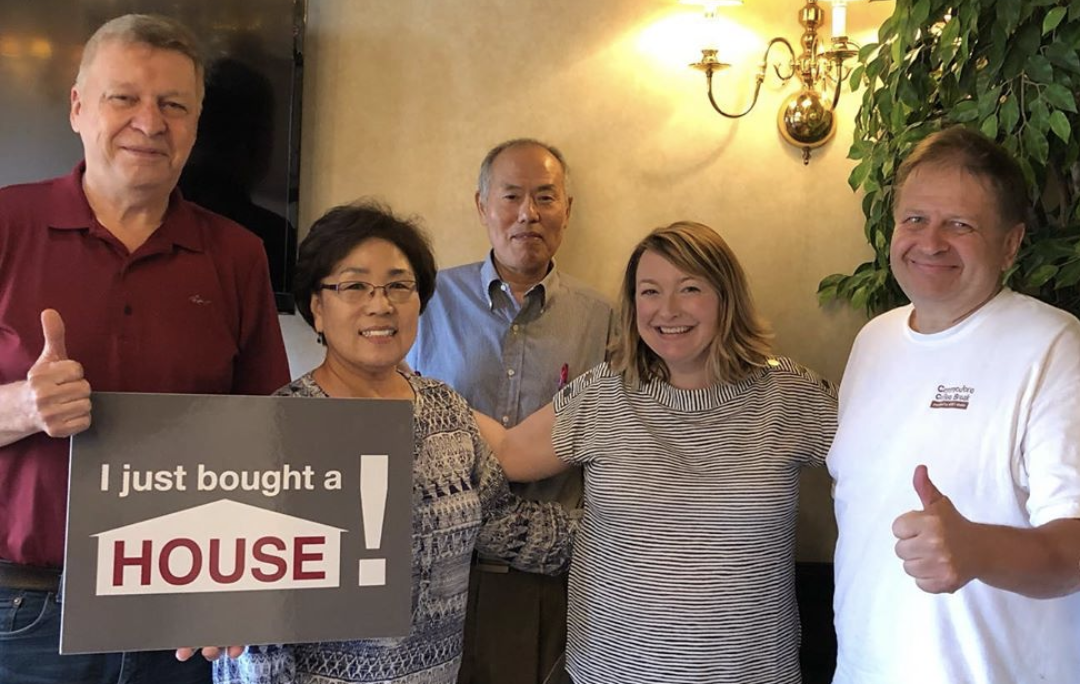 FINDING A HOME & MAKING AN OFFER
This is the fun part. Start going to open houses and talking to neighborhoods in the areas you are most interested in finding a home. Work with your agent and go see houses in hot neighborhoods before the open house, to get a leg up on the competition. Sometimes making an offer before the weekend is the key to getting the house. 
As soon as you fall in love with a home, make an offer immediately. You never know how soon sellers may need to sell their home and if any other offers are being considered. Sometimes even just minutes can make a significant difference to a seller considering multiple offers. Don't wait through the weekend. Send the offer as soon as you know.


SCHEDULING A HOME INSPECTION
In Virginia, the law of the land is "Caveat Emptor" so the buyer is required to ascertain the actual condition of the house.  You can get inspector recommendations from your agent, or friends who have bought. A good home inspector will find problems or issues related to the house of which the seller may not be aware or that aren't apparent during a normal showing. They also will give you an orientation on your home, give you maintenance tips and prepare you for care of the home. They also don't make a big deal out of things that need to be fixed – all houses, even new ones, have problems. 
You need to know the real condition of the home before closing so you can either budget for repairs or negotiate with the seller to have them made or issue you a credit.

THE FINAL WALK-THROUGH
The final walk through before closing gives you one last chance to make sure any and all repairs requested after the home inspection are done before you take full possession of the property, make sure the seller is completely moved out, nothing material has changed, and that it is "broom clean with trash and debris removed." If you expect a full cleaning, negotiate that up front.   If the seller makes a lot of complex repairs, it's really important to take this step slowly and perhaps even bring back your inspector. I recommend doing one 2 days before closing to check repairs and another day of to make sure no disasters have taken place.

DAY OF CLOSING
This is a predetermined date listed in the official purchase agreement contract between you and the seller of the home. This the day you pay the money, sign on the dotted line and  you are finally handed the keys to your new home. The funds are officially transferred and the ownership of the property is handed over to you as a buyer.
A title company facilitates this step, often with an attorney acting as the independent third party facilitating the final transaction, making sure the loan is paid off and the lender provides the money on behalf of the buyer to the seller. The average time it takes to close on a home is usually around 41 days, but can often vary depending on the time it takes to get the home ready for a new owner. In Arlington this year, 21-30 has been the norm if the sellers have already moved.